COMMUNITY INTEGRATION AND INDUSTRY COOPERATION
社區營造與產學合作
Our School values practical knowledge and social services, so we establish and many premium practice centers for our students and make available our learning resources to the public. We also embrace all opportunities to work and learn with current industry.
本校是注重社會服務, 追求學用合一的務實型大學, 許多中心的設置目的都在提供學生最貼近產業需求的學習環境, 並開放校園資源供社區民眾終身學習, 也做為產業教育訓練及證照考試的平台, 落實社區營造與產學合作.
Health Management Center 健康管理中心
In 1983, we established a regional health care center, a place which integrated education with technical practices and community services. In 1993, it was expanded and renamed Yuanpei Health Management Center, where school members and local residents could consult on-duty doctors and broaden their healthcare knowledge.
為提升國民健康保健,1983年設立區域健康保健中心,結合教學、臨床實習與服務社區理念,將健康知識轉變成實際的行為模式,在教育的基礎下推廣全民保健工作;1993年間擴大服務更名為健康管理中心,並成立元培健康診所,特聘醫院專科醫生駐診,提供全校師生及鄰近社區民眾醫療保健及衛生教育服務,並推動社區健康營造。
Senior Citizens Learning Camp 樂齡大學
Our College also designs a program particularly for learners at the age of 50 or older, offering courses in regard to healthcare management, active lifestyle, intergenerational education, and quality of life. The program is divided into four categories: The core category is in connection with knowledge of aging; the second is about keeping an agile mind; the third concerns health and body; the fourth regards technology and health plans.
2010年起,配合政府樂齡學習政策,以本校醫事技術及醫療管理資源,針對年滿50歲以上學習人口,規劃樂齡大學課程以建立高齡者自主健康管理的知能,課程內容包括認識老化,自我生活調適能力,預防保健以及獨立生活技能等。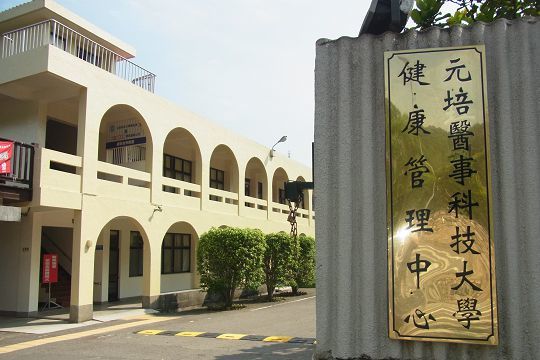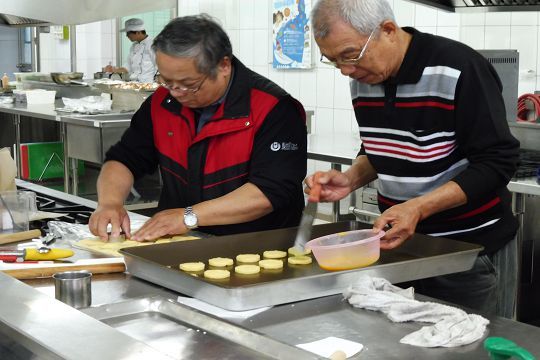 Continuing Education 推廣教育
Our Continuing Education Unit regularly invites qualified and experienced teachers to design education and life skill courses for the interested public to broader knowledge and further interests. Credited Courses count towards core subjectes of degree courses and are offered by all Departments within the University. Non-credited Courses are offer to the public: Certificate Courses (basic and intermediate) in Bakery, Chinese-style Cuisine, Western-style Cuisine; Training courses for Nannies and Healthcare; Courses for Toxic Chemicals; Courses for Hazard Analysis and Critical Control Points (HACC); Courses for Exotic Cuisines; Bartending Courses; Coffee Roasting and Latte Art Training Courses; Barista Skills and Training Courses; Courses for Tea Appreciating; Courses for Food Testers and Analyzers; Training Courses for Operation and Maintenance of Sewrage Facilities; Certificate Courses for Elderly Healthcare; Craft Courses and Workshops.
推廣教育中心成立於1992年, 開放本校豐富的教學資源及師資,規劃符合一般社會大眾興趣及需求,並兼具知識與技能的專業課程,鼓勵活到老、學到老,落實終身教育精神。 特色課程有本校各系隨班附讀的學分班, 以及烘焙、烹飪證照訓練班、保母/照顧服務員訓練、毒化物訓練、HACCP研習訓練、異國料理班、調酒班、咖啡烘焙/拉花班、國際咖啡師、茶葉感官品評師、食品檢驗分析師、下水道水質檢驗訓練、銀髮族養生證照訓練、以及各式手作訓練課程。
Long Term Care Simulation and Development Center 長照與福祉研發中心
This Center was established in 2014 to train healthcare professionals in the care of elderly, disabled and rehabs patients. The Center features simulation rooms with high standard equipment, such as electrical moving machines, walk-in bathrooms, stepping machines and kinetic games for the elderly. In 2017, this unique training center was officially recognised by the Ministry of Labor as the Medicare Theme Center, a center of excellence.
因應長照產業趨勢需求, 2014年成立長照研發中心, 以培訓長期照護與照護產業管理、輔具研發人才為目標,建置長照模擬情境,配備多項可供實際操作設備,如懸吊式電動移位機、走入式開門浴缸、爬梯機,以及老人動能遊戲軟體室等,供學生及相關產業見習合作。2017年與勞動部簽署合作協定,成立賈桃樂學習主題館元培分館,成為醫護專業類就業學習館。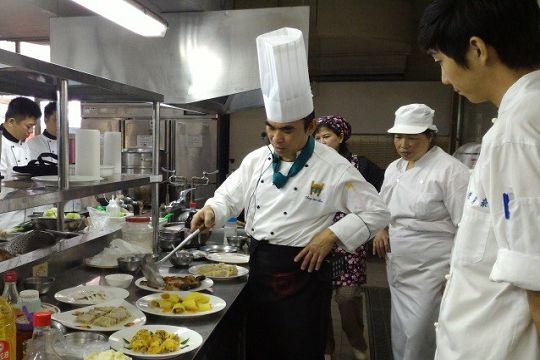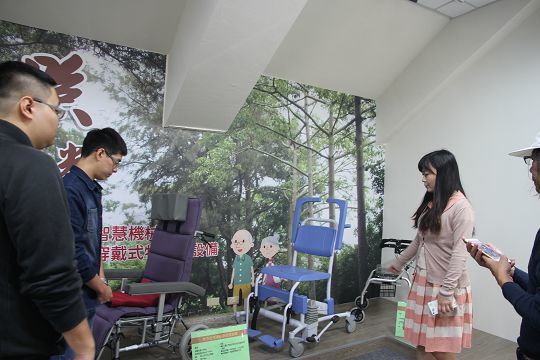 Guang-Yu Art Center 光宇藝術中心
Guang-Yu Art Center was established in 2008 and named after the School Founder, Mr. Ping-Kung Tsai, to exhibit inspiring arts and crafts. The Center consists of a gallery, an auditorium, and a School history room, which are available on request. In the school history room, a must-see is a well-preserved ancient X-ray machine. A free tour is given by reservation.
為提升校園藝術風氣,陶冶學生人文素養, 2008年以創校人蔡炳坤先生之字為名,成立「光宇藝術中心」。分為三個部分:展覽廳、演藝廳與校史館,除不定期推出各類藝文展演活動, 展覽廳及演藝廳空間也開放租借舉辦各式展覽及講習或表演活動等;校史館則保有台灣最早古式X光機,完整記錄學校發展歷程及創校人精神,可免費預約參觀。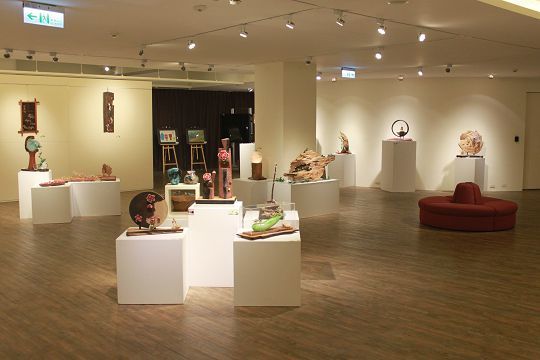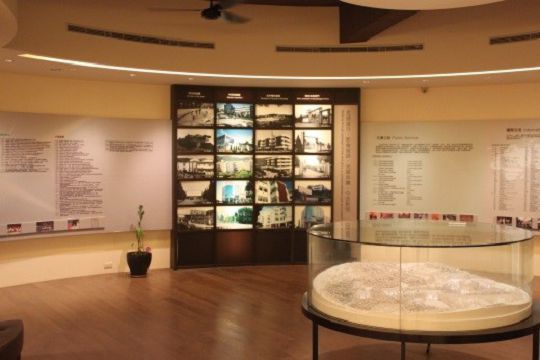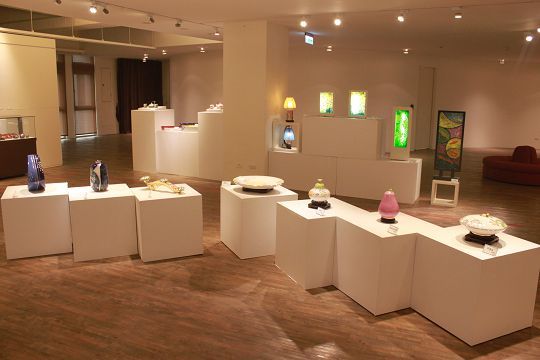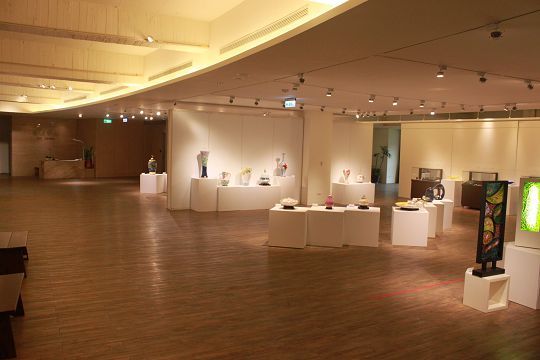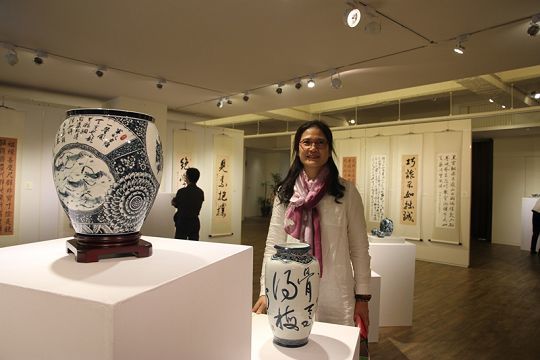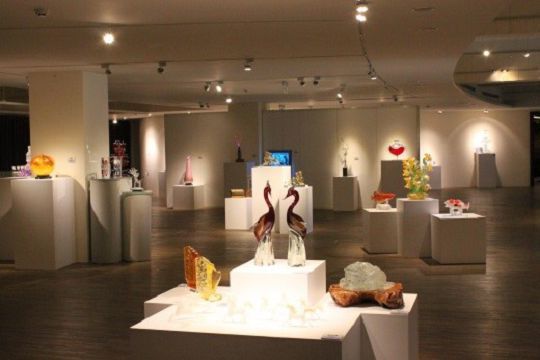 Tea Study and Education Center 茶創中心
The Tea Study & Innovation Center, established in 2016, serves as a key portal for the resources integration and innovation of Taiwan Tea. For example, YUMT has recently successfully developed Oriental Beauty Tea facial masks by combining cosmetic technology with a local most celebrated Silver-Tip Oolong Tea. In addition, The Tea Center also works as a brain-storming and idea-exchanging platform to inspire students with creativity, innovation and entrepreneurial mindsets.
茶產業為臺灣高產值產業之一,本校茶創中心2016年成立, 目標是成為台灣茶葉資源整合與創新應用之基地,提供茶文化展示交流的空間, 讓師生們在此做創新創業發想, 也可以讓相關產業團體做為教育訓練或資訊分享使用; 茶創中心也推動結合在地元素之創新,已經成功結合新竹東方美人茶,開發出「東方美人」面膜產品上市。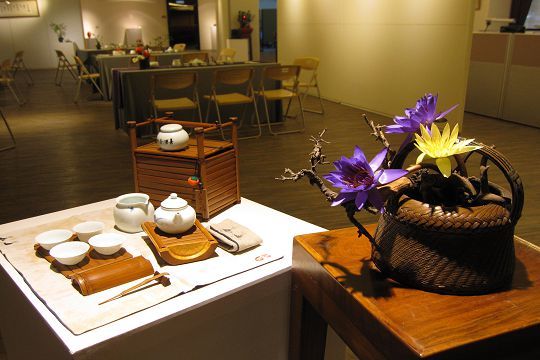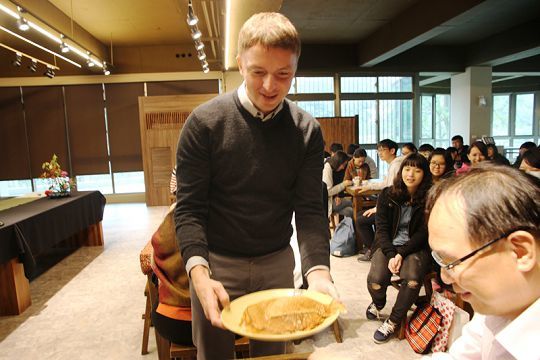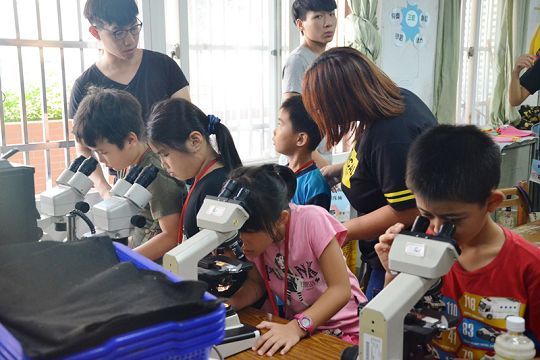 Medical Lab Science & Biotech students teach children how to use microscopes.
醫技系同學教小朋友操作顯微鏡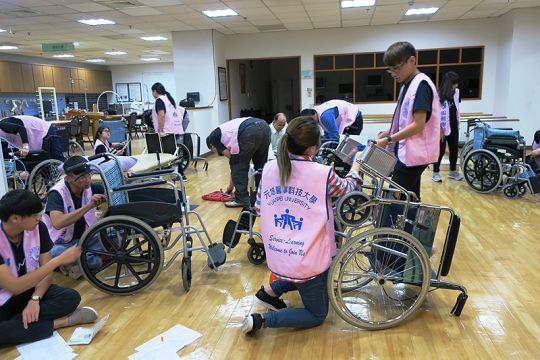 Biomedical Engineering students fix wheelchairs at Lotung Hospital.
醫工系同學到羅東醫院從事輪椅維修服務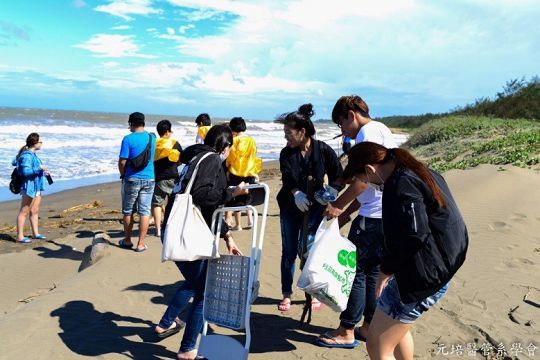 Healthcare Management students clean up a beach.
醫管系同學淨灘活動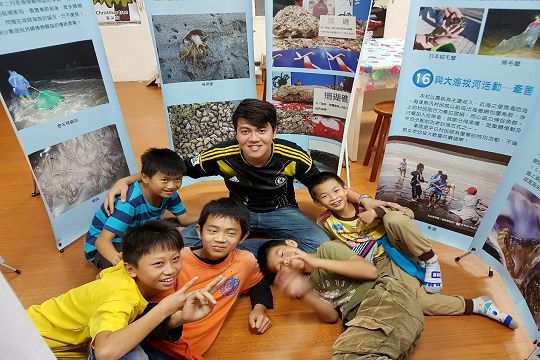 A Business Management student uses fun activities to teach children abet ecosystems.
企管系同學帶國小學童玩遊戲認識生態環境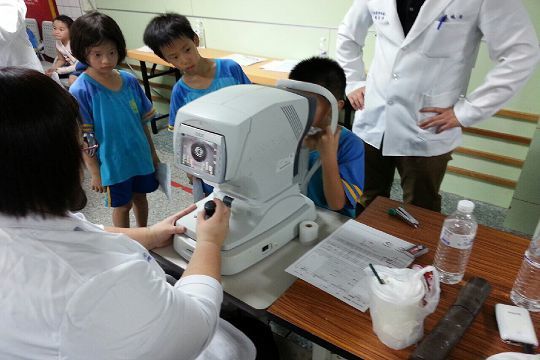 An Optometry student checks a school child's vision.
視光系同學為國小學童檢測視力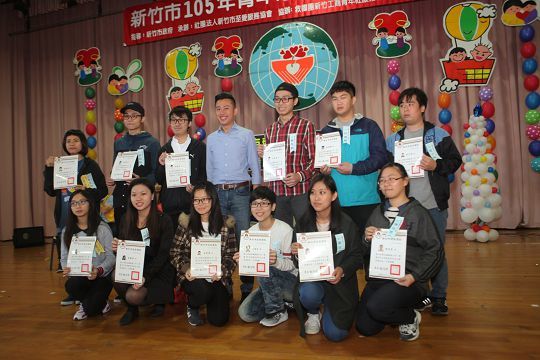 Our school clubs receive awards from the City mayor for their voluntary services.
本校服務性社團學生獲市政府青年志工表揚